Sun 27 Nov 2005
What is this you ask? Well, I have to keep an some what even playing field for my gay surfers. So here is a little something just for them. Let me introduce you to this straight male model named Mr. Dean. All of the straight surfers out there may ask why this straight model is a treat for gay surfers? I have asked that question many times. But as it turns out, along with all the other crazy fetishes out there, straight men are a huge turn on for gay men. I suppose it's like us straight guys getting to take a girl's virginity. The same applies for butt virgins I guess.
So I will do my best to explain this gallery without sounding like a straight male asshole.
Mr. Dean is a 6'5″ black straight male who was low on a little cash. He needed just a few extra bucks to make his car payment. So he answered an ad in his local newspaper. It was for straight male models. So he called, set up the appointment and went in for the interview. Everything seemed to be going well, and it looked as if he would earn that extra cash he needed to make ends meet. Then things got a little weird for him.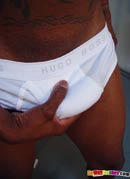 The man behind the camera slowly convinces Mr. Dean to take off all his clothes. It started with the shirt. By looking at Dean, you can tell he takes care of himself, and taking his shirt off is no biggie for him. Then he is coaxed into taking of his shorts. The cameraman wanted to see his tighty whitie undies. He admits it was a little weird, but he needed the cash so he gave in. Then when the cameraman asks Dean to play with himself for the camera, Dean declines. It wasn't until some more cold hard cash was offered up that Dean accepts the offer. So Dean lubes up his 10″ cock and begins jacking it. The rest… well you have to watch the movie!